Within my 1:1 private mentoring programs, I work with women who are prepared to be exalted – first and foremost by their own selves, and then the world at large. 
Women who seek to transform themselves through soul-led guidance, communing with the divine, aligning with their higher self, and cultivating their intuition.
EXALTED defn/ [ig-zawl-tid]
1. raised or elevated, as in rank or character;
2. noble or elevated; lofty:
3. rapturously excited.
My definition? An energetically high-vibing, goddess incarnate, aligned with her highest potential, tapped into both her divine feminine and divine masculine gifts.
Nothing lights me up more than seeing a woman transform into her fully exalted state – illuminating the world with her unique shade of brilliance. A woman in her wholly exalted power and grace is potent, magnetically mesmerising.
BUT – I also know what it's like to NOT be in an exalted state. To feel like the universe has left you behind, cutting you off from love, light and any feeling of connection.
I've felt the murky depths of depression and despondency, and been sucked deep into despair.
The painful frustration of procrastinating about incorporating healthy self care practices, but NOT doing it.
I've flailed around looking for my validation outside of me – in all things external and appearance oriented. Seeking to please everyone around me, in order to accept myself.
I've deftly shape-shifted to suit whatever anybody needed at the time, and abandoned myself in the process.
And I've suffered from skin-crawling comparisonitis when I felt like I was doing everything wrong, and not "keeping up".
Why do I feel the need to make sure YOU know about where I've been, not just where I am now? Because I don't want you to think I'm mentoring and guiding from a place of constant mental, emotional, and spiritual perfection. It has been and always will be a bit messy. But it's a beautiful mess.
The reason I am so good at what I do (and can really own my value in this) is because I've BEEN where my clients have been and I know how to move through it now with a lot less meandering off track.
And very honestly, why would you want to listen to, much less work with, a person who has no idea how to get from where you are to where you want to go?
I'm not the person on the other side of the river bank shouting at you to just, 'Come on over here! It's really great once you arrive!', I wade back through the water and come to stand by your side. And then, linking arms, we make our way together, to the other river bank.
I've poured my heart and soul into designing my signature three month mentoring program that I wish I could have had access to a few years ago, while I was blindly flailing about trying to find my way through a raging river of fear and on to the verdant banks of authentic self love, spiritual connection and soul purpose. 
My aim with my mentoring program is to arm my clients with tried and true practices I have honed after years of trial and error, mindset shifts, heart-based activations and embodied practice.
I blend the spiritual and the practical in a way that GETS RESULTS, like the following experienced by my clients:
Establishing a spiritual practice that actually works
Rapid manifestation of soul desires
Completely dropping destructive negative self talk patterns
Aligning with their divine, goddess selves
Crystal clear clarity around their soul purpose
Shifting from a lack mentality to one of over-flowing abundance
Raising their vibrational frequency to align with their highest potential
Complete connection with themselves
Transformational shifts in to self love
Healing their mother and father-lines
Fully integrating divine feminine practices into their daily lives
Established self care patterns for their empathic nature
Moving from their heads to the hearts, and living an embodied life (that feels AMAZING) every day
Transforming their side hustle hobby into their full-time soul business
1:1  Private Spiritual Mentoring
My services are available globally (hallelujah, Skype!) and is entirely bespoke and intuitively-led – based on the guidance of your soul and higher wisdom. While I create structure for your program and our sessions together, I am always open to the flow of what your soul is calling in, at that moment. 
I have two highly popular mentoring programs that I periodically open for application: Goddess Awakening 3 Month Mentorship, and Mystic Awakening 6 Month Mentorship. Scroll down for the deets!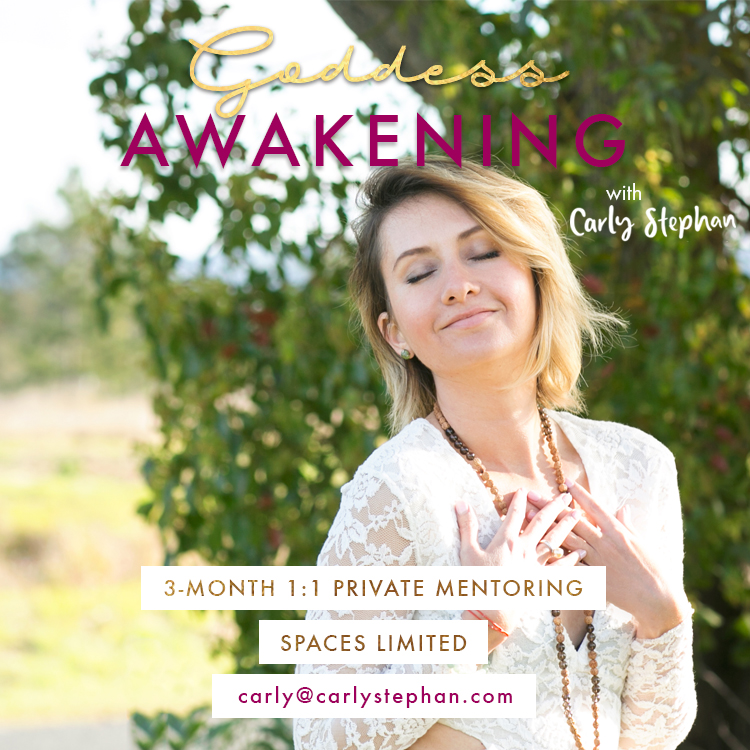 This Mentoring Program is for you if you'd love to:
Tune deeply into yourself.
Cultivate a daily spiritually nourishing practice that works for you (and commit to it).
Experience rituals to connect you deeply with your soul.
Explore presence and meditation – and create a practice that nourishes you.
Develop and cultivate innate trust of your intuition.

Explore the sacred feminine – and implement practices to balance your feminine and masculine. We cover moon cycles, menstrual cycles, and syncing with your monthly feminine energetic flow.
Learn how to unleash your feminine potency.
Become embodied and more from living primarily in your head and more towards your heart. We will open up to wisdom beyond the mind.
Explore shadow work – we'll find the gold in the repressed parts of you.
Radical self-care and love, romancing yourself – practices to have you treating yourself as the love of your life (which is also the best way to call that romantic soul partner of yours in!).
Releasing self-abandonment and connecting fully to your true self.
This Mentoring Program is NOT for you if:
You are in an acute phase of trauma or psychological distress.
You're not ready or able to take responsibility for your healing journey.
You're in victim mode.
You're not ready to be accountable to your own progress and journey.
You blame others for your circumstances or situation
You're not yet willing to own your inner brilliance and align to your highest potential
You don't yet know that you are spirit having a human experience.
You're pussy-footing around with your decision to commit to yourself and your highest potential. I work with women who are ALL IN for their highest, most exalted state.
What you receive:
A beautiful half day 1:1 heart-storming workshop to kickstart our journey together, dedicated to getting laser-focused on the results we're going to achieve, drop in to your heart, become embodied – and get excited!
A private online space for us to connect whenever your soul desires during our time together
Fortnightly one-hour sessions for three months either in person or on skype
Alternating weeks we'll check in via our online space, where I'll provide you with additional info, tips, tricks and practices

We will design a

specific program

especially for you during our first session based on your needs and desires

Distance energy healing, as required
Unlimited

email support during our time together

Phone support as needed during our time together
Video and audio recordings of our sessions (if online).
You will receive my complete energetic support for the entire time we work together.
This program combines my highly popular and transformational Goddess Awakening 3 month program, with a high-energy and delicious 3 month Mystic Awakening addition!
Within the Mystic Awakening Mentoring Program we dive deeply into the mysteries of:
The ascension process – managing symptoms, riding the incoming waves, self care and awareness
Developing your clair-abilities (clairvoyance, clair-sentience, clair-audience, claire-cognisance)
Advanced intuition development
Your soul's journey
Your soul themes
Family Karma Themes and integration of them
Integrating higher dimensional aspects of ourselves
5th Dimensional Living
Connections to higher dimensional guides (including ETs! YES)
Activation of your 12-Strand Etheric DNA Helix
Identifying your big Mystic Intentions and creating challenges to push your own boundaries, explore erotic edges and birth your mystic self into the world.
This Mentoring Program is for you IF:
Your heart is leaping when you see this offering.
Your soul is screaming YES and your head is going 'WTF'. (Pretty much EVERY one of my clients arrive into my life saying, "I'm not 100% sure why, but something inside me just made me want to work with you. Is that weird?" No, it's not weird, it's soul-aligned action, and exactly the kind of person I want to work with!).
You want to live life as the divinely feminine woman you are, knowing when to draw on your inner masculine and inner feminine in a way that serves you.
You're ready to leave the grind behind. Less striving, more thriving.
You want to learn what it means to journey out of your head and into your heart – fully EMBODYING your soul
You want direct and personalised guidance – no generalising here!
You know there's more to life than ticking off boxes of achievement – and you're ready to soar.
You'd love to have space lovingly but firmly held for you, with accountability structures in place to ensure your commitment.
You want to work with someone who ALREADY sees your highest goddess self, and is committed to guiding you into alignment with her.
You want higher dimensional wisdom delivered in an earthy and practical way.
This Mentoring Program is NOT for you if:
You are in an acute phase of trauma or psychological distress.
You're not ready or able to take responsibility for your healing journey.
You're in victim mode.
You're not ready to be accountable to your own progress and journey.
You blame others for your circumstances or situation
You're not yet willing to own your inner brilliance and align to your highest potential
You don't yet know that you are spirit having a human experience.
You're pussy-footing around with your decision to commit to yourself and your highest potential. I work with women who are ALL IN for their highest, most exalted state.
What you receive:
6 months of high vibrational energetic support – your energy system is activated, aligned and frankly, completely transformed during our time together.
A program that's a combination of bespoke tailoring to your soul's calling, and a structured process I have created.
Fortnightly 1:1 Skype sessions.
Every other week there will be a lesson / article in our private online space for you to absorb.
A Half day Goddess Activation and Alignment session to kick things off!
An exclusive online space for us to journey together, and for you to drop into whenever you need.
Unlimited email support during our time together.
VIP Immersion Full Day together during the second half of our journey.
My powerful Goddess Light Healing Activation Meditation Track.
My highly activating Cosmic Light Connection Meditation Track.
Video and audio recordings of our sessions (if online).
You will receive my complete energetic support for the entire time we work together.
My vision for you is that by the end of our time together, you will feel aligned with your highest potential, be energetically upgraded – vibing at a frequency higher than you ever have before, and feel able to realise your fullest, most exalted and juicy self here on earth.
Your commitment to you:
Energetically committing to our sessions, scheduling time in your diary and making the most of our time together
Moving into a space of worthiness for the investment you are about to make in yourself
Committing to being a conscious co-creator of your dream life

Transforming your

learning into implementation

and action!

Carving out time for your

spiritual practice

, daily

Radical

self-love and care

, always
If your heart is leaping (even just a little) with excitement and recognition that this is something you'd LOVE to do, the next step is to filling out the form below, or drop me a line at carly@carlystephan.com. I'll be in touch soon, beauty!
Payment plans for our time together are available, just ask!
I look forward to working with you so you can gift our world with your highest, most exalted and lit up self!
Lovely people saying very lovely things:
"Ease, Grace, Flow and Space! After wrapping up six divine months of working with this goddess, this is how I feel. I was on a bit of a coach hiatus before Carly. I know the value in great support but I just hadn't found someone I wanted to work with so closely, it's like I knew she was coming. A few weeks before she announced she was taking on clients, I had a download that I needed to be working with her, but couldn't find a thing on her website, so just left it where it was. A thought. Until her email announcement dropped and I was on it straight away. Life is about being connected, you have everything you need within you, but sometimes you just need the support of a divine human to guide you through. Carly has illuminated for me, what was sitting just below the surface, waiting to come out." – Emma Newby, Photographer : Coach : Creative
"Before we began our work together,  I felt a little lost, and a lot overwhelmed by life's circumstances.  I felt as though I had wonderful things to offer, however was frustrated at not being able to bring ideas down to earth with loving action.  Working with Carly, it was as if she had walked along the path before me, illuminating a string of lanterns. We healed old wounds and consciously moved through any challenges as they came up. With Carly's guidance, I connected deeply with the light and dark parts of who I am which lead me to feeling more whole and Goddess-like than ever.  As a result of our work together, I gained the courage to run headlong into a wall of resistance to bring my gifts into the world as a natural health practitioner. The best part is that after working with Carly, I no longer feel the need to look outside myself for answers – Carly has gently, but swiftly, guided me home to myself. " – Kayla Kooistra, Undergrad Nutritionist (BHSc) / Social Media Marketing Coordinator / Writer
"Carly is an intuitive, gentle and spirited woman who has the capacity to make everyone around her feel at ease and instantly comfortable.  I deeply admire her for her hugely healing heart and the work she does in the world.  She is not just creating a legacy with her writing, speaking and coaching – she is living it as an embodiment of what it truly means to live and not just exist.  Her presence is always a gift to my heart." – Julie Parker, CEO & Founder, Beautiful You Coaching Academy.
"Carly is pure starlight, a divine soul, articulate voice and intelligent woman grounded in the here and now. She's the perfect mentor and guide for anyone embarking on the spirit and soul path." – Susana Frioni, Erotic Empowerment Coach. 
"It's impossible to connect with Carly and not feel as though you're always being guided into a higher vibration. She has helped me to open my mind and heart to the cosmic magic of the universe and the knowledge and power I have within myself. I'm so grateful for her wisdom, encouragement and support. Through years of her own deep spiritual work and intuitively creating powerful practices in her own life, she has developed a divinely soulful space to help women with their own journey." – Jo Klima, Artist, Designer & Boss Lady at The Darling Tree and Maps to Herself.
"In short, this girl is a gem! Carly stepped into my life at a time of imbalance and desire for spiritual growth. With her pure energy, she created a safe space of trust and openness for me. Her gentle guidance, coupled with profound wisdom and intuition gave me the opportunity to reconnect fully with myself. Sessions with her during our three months together were filled with inspiring and transformational concepts. This radiant soul brings light wherever she is and celebrates everyone around her. The experience of working with Carly was invaluable." – Philippa A, Brisbane.
"Carly is incredibly attuned, gifted and wise. A session with her leaves you feeling completely heard, nurtured and with a deeper understanding of yourself.  I would not hesitate to recommend her to anyone ready to immerse in a beautiful spiritual practice!" – Alana Wimmer, Editor Raspberry Magazine. Brisbane.
"Sometimes in life, magic just has this way of finding you. Carly stepped into my world a few years ago, when she approached me to work together creatively in the development of her own branding. Right from the get go, I felt our connection run much deeper, in a way that made me feel like my soul had known Carly for something far beyond the common realms of space and time. It is a bit impossible to summate in a short paragraph how much Carly has impacted my life – personally, and professionally, ever since – as an initial design client of mine, and later, turning the tables as soul support coach and mentor figure to me… as well as a creative collaborator, a kindred soul sister, travel partner, and best friend. Carly was my biggest support during a particularly traumatic time in my life just over a year ago, and at this time, she helped me to completely recalibrate my life – soul led, from the inside, out. In matters of grieving, healing, in recalibrating hormones, in nourishment, in soul work and ultimately, in bringing me back to myself. Carly's presence is gentle, delicate and wise, yet powerful. Her spirit is sunshine soaked. In Carly's presence, my soul is only ever seen, held, celebrated, adored, empowered and uplifted. If you are in need of support and guidance, Carly comes with my highest recommendation." – Emma Kate Codrington, Director + Chief Wild Heart at Emma Kate Co.
For more – head over here!